Is there tum-thing we ought to know, Liz?

For a woman who prides herself on eating only one meal a day, Elizabeth Hurley is looking remarkably well nourished these days.

Perhaps the actress, pictured on a visit to Milan, had been allowing herself the odd bowl of pasta.

Or perhaps her newly rounded figure owes more to her hopes of starting a family with boyfriend Arun Nayar.

Miss Hurley, 40, who has a three-year-old son from her relationship with billionaire Steve Bing, has spoken openly of her desire to have another child.

"Arun would love a baby, so I'm sure we'll rev it up," she said recently. "I think Arun would like a little girl."

The baby blue dress and white wrap she wore to the Versace fashion show in Milan at the weekend certainly showed off a much more curvaceous shape.

The couple, who have been together three years, are now free to marry. Nayar's divorce from his wife of seven years came through in November after a lengthy legal battle.

But today Hurley's spokesperson said the reports that she could be pregnant were "100 per cent categorically untrue."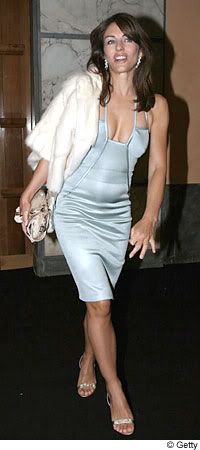 ---

More on the same topic:




Monday, 27th February 2006, 12:12

LIFE STYLE EXTRA (UK) - Elizabeth Hurley has been spotted with a bump - sparking speculation she is pregnant.

The beautiful brunette - who is engaged to Indian business tycoon Arun Nayar - arrived at a fashion show wearing a figure-hugging dress that revealed her swelling stomach.

Hurley, 40, has refused to comment confirm pregnancy rumours, but friends expect a formal announcement within weeks.

One onlooker at the Milan event is quoted in Britain's Daily Mirror newspaper as saying: "She's famous for being fantastically trim but her bulge was unmistakable. It got tongues wagging."

The actress - who already has a three-year-old son, Damien, to American businessman Steve Bing - first sparked the rumours after she was seen leaving an antenatal clinic in January.

Elizabeth and her 41-year-old fiancé have made it clear they would like children together.

During Arun's divorce from Italian model Valentina Pedroni, he accused her of refusing his "natural craving to have a child".

While Liz recently said: "Arun really wants a child. I'd secretly like twins."

More Sources: Is Elizabeth Hurley pregnant with Arun Nayar's child?